Yahoo CEO's exit: debacle for company, and a warning for resume padders
Scott Thompson was hired as Yahoo CEO – the embattled company's fourth in five years – for his record as an executive, not the degrees on his resume. But the fabrication was costly.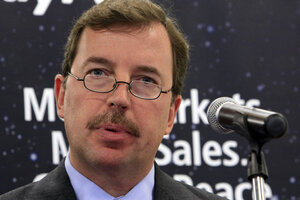 Wong Maye-E/AP/File
The departure of Scott Thompson as CEO of Yahoo Inc. over the weekend poses a new challenge for the struggling firm, but it's also a cautionary tale that ripples beyond the high-tech industry.
The lesson: Padding a resume with fabrications or half-truths can be dangerous to your career.
In Mr. Thompson's case, his resignation was prompted by a recent uproar over an inaccuracy in his biography on the company's website and in a recent filing with the Securities and Exchange Commission. The bio listed bachelor degrees in accounting and computer science from Stonehill College near Boston. A dissident Yahoo shareholder discovered that Thompson had never earned the computer science degree.
On its face, that may not sound like an automatic career ender. Thompson was hired for his performance as an executive, most recently at the Paypal online payments firm, not for his record as an undergraduate more than two decades earlier.
But Yahoo's staff and shareholders were already in turmoil over the embattled company's long struggle to find its way in a tech world now dominated by the likes of Google and Facebook. With the recently arrived chief executive facing doubts from Day 1 about whether he was the right person to chart a course, that nonexistent computer science degree stirred deep concerns.
The Wall Street Journal reported an additional twist in the story Monday: Thompson told the board last week about a medical diagnosis that contributed to his decision to step down.
---