Louis C.K.: Comic ditches Ticketmaster, sells $4.5M in tickets
Louis C.K. is selling every seat in every city for his upcoming standup comedy tour for a $45 flat rate, including sales tax. Tickets are only available through his website. It's been three days, and Louis C.K.'s tour is all but sold out. Is he changing the way we buy entertainment?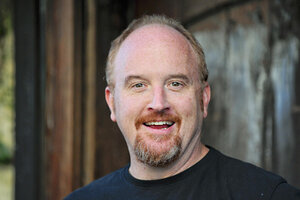 Gue Ruelas/Reuters
One comedian is continuing his quest to provide laughs wholesale, making his performances and other content available only through a single channel at lowered prices. And it's paying off big time.
Louis Szekely, or Louis C.K., as he's more commonly known, is one of the most popular standup comics in the US. His TV show "Louie," which he writes, directs, and stars in, will premiere its third season tonight on FX. He's won an Emmy for comedy writing and been nominated for several more, including Best Leading Actor in a Comedy Series last year.
But Louis C.K.'s biggest achievement to date might be how he's taken control of selling his work. Earlier this week, the standup announced that tickets for his upcoming US tour, from October 2012 to February 2013, would only be sold through his website, louisck.com. That means you can't get them through Ticketmaster, StubHub, or any of the other big ticket retailers.
What's more, all seats in all venues would go for a flat rate of $45, including state taxes. Processing fees, which generally drive ticket prices much higher than advertised, have been completely eliminated.
---