Will jobs report give a timely lift to Obama's record on the economy?
At 7.8 percent, the US unemployment rate is now back to the point it was when President Obama took office. But Mitt Romney say it's still not a recovery – and that the real jobless rate is closer to 11 percent.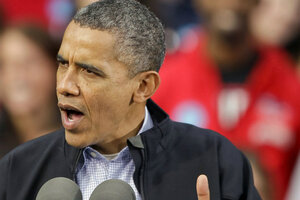 Andy Manis/AP
In a surprise development, the unemployment rate, at 7.8 percent, now stands the same level as when President Obama took office in January 2009.
On Friday, the Department of Labor reported the widely watched rate fell from 8.1 percent to 7.8 percent in September.
At the same time, businesses last month added only 114,000 new positions, giving Republican challenger Mitt Romney ample opportunity to criticize the president's handling of the economy.
After this month, there is only one more jobs report before the election, so this report takes on distinct political importance. For Mr. Obama, the drop in the unemployment rate might be considered his best news for some time, especially considering that his Wednesday debate performance was considered to be flat, at best, by many commentators. In response, Mr. Romney charged that Friday's jobs report still doesn't signal that a real recovery is under way.
"These are the numbers the politicians are going to have to live with," says economist Joel Naroff of Naroff Economic Advisors in Holland, Pa. "Romney can say 114,000 jobs is not enough, and Obama can say we are back to where the economy was when he took over and he has essentially turned it around."
The White House said the latest numbers show that the economy is continuing to heal from the worst downturn since the Great Depression.
---