Why Black Friday 2012 is giving shoppers and stores an extra gift
Black Friday falls falls early in the calendar this year, which means retailers have more opportunity to make sales and shoppers have more time to do last-minute shopping.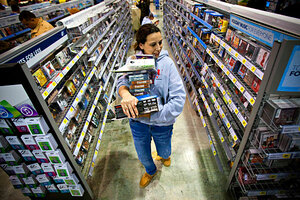 Alex Slitz/Daily News/AP
Shoppers: for those who cannot get out for Black Friday, don't despair.
Holiday shopping is going to go on and on and on.
Because Thanksgiving – and hence Black Friday – is early, there are still 32 days left before Christmas, just about the maximum. And, almost equally as important, there is a Saturday three days before the Big Day so procrastinators can still wait until the last minute without having to break out into a complete sweat.
"This will definitely help me," says Dallas Crilley, a 20 year old in Denton, Texas, who has historically waited to buy his gifts. "It means I have a little bit of time."
In Haymarket, Va., the extra days will also help Christine Cannon, who has 20 nieces and nephews plus four of her own children. "I work full time," says Ms. Cannon, a publicist. "So, it will help to have some extra time for shipping purposes."
And, in Saratoga Springs, N.Y., working mom Shelby Schneider, with four young children, says the extra days are a real luxury. "The more time I have to prepare, the better off I am," she says. "It gives me extra time to shop at our local retailers."
The retailers are happy to have the extra time as well. It gives them extra time to offer promotions to get shoppers in their doors.
That is exactly what Christopher Rankin, president of Christian Caine, a jewelry retailer in Shepherdstown, W. Va., is planning. He has mailed out "no strings attached" $100 gift cards to his top 500 clients. "If there was a shorter amount of time, then there is not enough time and if you send them too early, they don't get used," says Mr. Rankin. "This year you can actually do these things."
---