Why the Feds opted for a sweeping safety review of Boeing 787
Beset by glitches, the pioneering Boeing 787 Dreamliner will undergo a federal safety review, US officials said Friday. The unusual move stems from a series of first-year malfunctions and the plane's unprecedented reliance on electrical systems.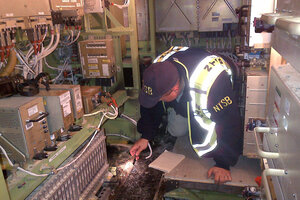 NTSB/AP
A federal safety review of Boeing's 787 jetliner promises to bring added scrutiny to the pioneering but glitch-troubled airplane – including inquiries into its heavy reliance on electrical systems and batteries.
For the flying public, that's probably a good thing.
Both the company and federal officials, as well as many outside aviation experts, say they believe the Boeing 787, dubbed the Dreamliner, is safe to fly. But with multiple and varied problems cropping up, including a recent fire during one plane's at-the-terminal transition between flights, the added layer of oversight may help to ensure that any flaws in design or manufacturing are found and fixed as promptly as possible.
The Federal Aviation Administration (FAA) and US Transportation Secretary Ray LaHood launched the safety review Friday. The move, unusual for its sweeping scope, appears rooted in two facts: the 787's unfortunate series of first-year glitches and, second, the plane's unprecedented reliance on electric controls and batteries to reduce reliance on pneumatic or hydraulic systems. [Editor's note: The original version of this sentence has been revised to give greater specificity about the distinctive features of the Dreamliner that are under review.]
"In light of a series of recent events, the FAA will conduct a comprehensive review of the Boeing 787 critical systems, including the design, manufacture and assembly," the FAA said in announcing the move.
Boeing announced its full cooperation with the review, but also emphasized the Dreamliner's successful safety record during its first year in service. "The airplane has logged 50,000 hours of flight and there are more than 150 flights occurring daily. Its in-service performance is on par with the industry's best-ever introduction into service – the Boeing 777," the company said in a statement.
---