Do young people believe in stocks?
Millennials are more cautious about investing in the market than their parents. But they are also more knowledgeable about what to do with their money.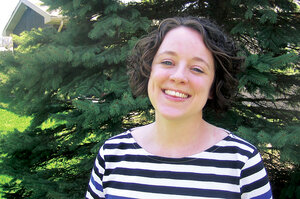 Courtesy of Michaele Bradford
When she was young, Michaele Bradford thought that the world of investing was a fun, cheery place – a sort of playground for your piggy bank.
With good reason. Her grandparents bought her a mutual fund while she was still in elementary school. It came through USAA, a big financial services firm, which provided a monthly newsletter specifically for its young customers.
"It had a column called 'Ask Kurt,' where you could ask an investment banker at USAA anything you wanted," she recalls. "I still have the response Kurt sent me when I asked him what companies were in my mutual fund. So they kind of spoiled me."
The 2008-09 market crash and deep recession became a smelling salt to her about investing. Ms. Bradford, now in her late 20s, suffered a severe setback with her finances, as did others of her generation. Not only did her modest portfolio plummet, she also lost her job and had to liquidate two retirement accounts to survive.
"There's a 15 percent tax penalty, but I was unemployed for six months and I needed it," she says. "It was like $1,000." Since then, Bradford, who graduated from college in 2007, has found work as a case manager at a Detroit-area homeless shelter – and, reassuringly for Wall Street, restarted a 401(k).
Millennials represent a key demographic for Wall Street. If the events of the past six years have soured them on stock investing, then they won't provide the growth for the next generation of mutual funds or the cash that will help drive the stock market forward.
For now, Millennials seem more conservative about investing than some generations in the past. Surveys show many young adults are cautious and less trusting in the financial industry than their predecessors – but also more knowledgeable about what to do with their money.
This is perhaps understandable. Unemployment among people ages 18 to 29 was 11.7 percent in March, compared with 7.7 percent for the nation as a whole. Saddled with more than $1 trillion in student debt, this generation is also delaying buying houses and cars in greater numbers than ever before. Many young people have also been influenced by the experience of their parents, which has acted as both a cautionary tale and a goad. Take the Tillmans.
---