US economic growth revised down: Will Fed keep foot on accelerator?
Investors welcomed news that the US economy grew in the first quarter at an annual pace of only 1.8 percent, well below last month's estimate of 2.4 percent, because it may encourage the Fed to persist longer in its stimulus policy.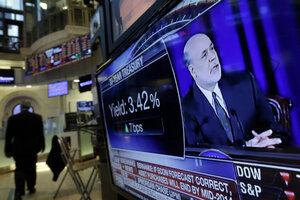 Richard Drew/AP
It turns out that the US economy started off this year much slower than first reported – news that could nudge the Federal Reserve away from any imminent retreat from stimulative monetary policies.
Gross domestic product (GDP) grew at an annual pace of just 1.8 percent in the first quarter, the Commerce Department reported Wednesday. That's a big downward revision from the 2.4 percent estimate the government offered a month ago.
The downshift reflected new and smaller estimates of consumer spending, as well as a weakening of international trade and business investment.
The news isn't a severe disappointment. Economists knew that, as the year began, consumers would be hit by changes such as the expiration of a temporary 2 percent reduction in worker payroll taxes. And during the second quarter, the US has continued to chart a path of economic growth, despite the onset of mandated federal spending cuts known as the "sequester."
But the new portrait of the economy underscores that the pace of progress during the current recovery remains tepid.
That downbeat interpretation was greeted by investors as a positive thing. Financial markets have been on edge in recent days over concerns that the Federal Reserve may be close to a major policy change – a scaling back of its longstanding stimulus efforts. Signs of weakness bolster the view that the change in Fed policy may not come as soon as September, after all.
Members of the Fed's policy committee have been seeking to support an economic recovery through both a near-zero short-term interest rate and through a bond-buying program designed to keep long-term interest rates down.
"They might decide to wait to taper bond buying until next year, as fiscal austerity could take a bigger bite out of growth in the absence of sufficient monetary stimulus," economist Paul Edelstein of IHS Global Insight writes in an analysis of the GDP report.
---