Second quarter GDP better than expected – but economy still in slow gear
New GDP numbers for April through June show the economy growing by 1.7 percent – an unexpected jump. That could lead the Federal Reserve to ease up on its stimulus program.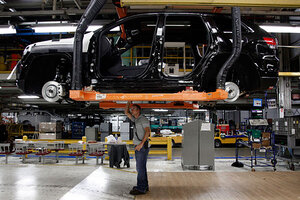 Paul Sancya/AP/File
The US economy grew at a 1.7 percent annual pace in the second quarter – a welcome acceleration that many forecasters didn't expect.
It's a sign that businesses are investing more and consumers are spending more, despite tax hikes that took effect at the beginning of the year.
The nation's gross domestic product, or GDP, had grown at a rate of just 1.1 percent in the first quarter and 0.1 percent in last year's final quarter.
The positive report from the US Commerce Department was matched Wednesday by a sign of progress in the troubled European economy as well, where the number of people unemployed fell for the first time since April 2011.
Investors responded by pushing up stock prices, with the Standard & Poor's 500 index up about 0.5 percent for the day by the middle of the trading session.
The pickup in US growth comes despite the arrival of Congress's budget "sequester," which began to impose automatic spending restraint across much of the federal budget as of April. And to many forecasters, that suggests that the pace of economic expansion will pick up during the year's second half.
For now, though, the recent progress still leaves the economy crawling forward at only a tepid pace.
Since last December, for example, the unemployment rate has edged downward by just a small degree: from 7.8 percent to 7.6 percent in the June reading. The Labor Department will release the jobless rate for July Friday.
---