Charity 2.0? Silicon Valley reinvents philanthropy.
Silicon Valley entrepreneurs bring a fresh eye to social problems. In some cases, their innovative solutions are changing the way charity is delivered.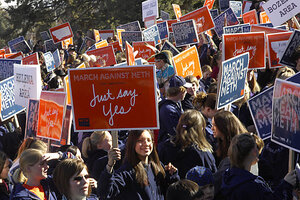 Montana Meth Project/PRNewsFoto/File
Reinvention is nothing new in Silicon Valley. This is the region whose pioneers helped remake entire industries, and some of those same pioneers have their eyes set on an industry that, they say, is ripe for innovation – charities.
Frustrated with slow and inefficient non-profits, some of Silicon Valley's elite are bringing about fresh approaches to solving vexing social issues, such as helping the poor and reimagining how students are educated.
And they aren't just bringing money. Social entrepreneurs are bringing their business skills – everything from marketing to operations, along with their enthusiasm and business drive – to transform many nonprofits into savvy, goal-focused businesses.
Active donors and accountability have been growing trends throughout the nonprofit world, but the valley, by some accounts, is leading the way with its deeply ingrained entrepreneurial way of life.
"The rapid generation of wealth in Silicon Valley really shifted the focus to giving while living. Donors aren't waiting until retirement now," says Laura Arrillaga-Andreessen, a philanthropist and author of "Giving 2.0," a new book on how to improve one's philanthropy. "We now live in a giving 2.0 world, and the definition of a philanthropist has changed. This is no longer about sympathy. It's about strategy."
She says donors are demanding more research and metrics before funding projects.
Take Thomas Siebel, founder of Siebel Systems, a Silicon Valley software company that was purchased by Oracle in 2005. Mr. Siebel decided to take a new approach to preventing drug abuse. Eschewing counseling and other traditional approaches, the Siebel Foundation took a page out of a business playbook and created a research-based, consumer marketing campaign. The program, called the Meth Project, relies heavily on consumer research like target-market surveys and uses that information to develop graphic advertisements that then saturate a community. The program aims to reach 70 to 90 percent of teens three to five times a week during a campaign.
---