My Nissan Leaf life: Why I bought a Nissan Leaf
(Read article summary)
Nissan Leaf will save $1,000 a year in fuel bills. But the real reason I bought one? 9/11.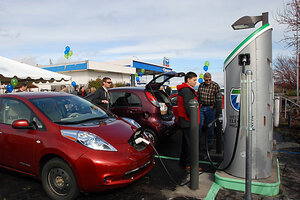 Jeff Barnard/AP/File
– First installment in an occasional series
I've had a Nissan Leaf for two months now – and things have started to change.
I pass gas stations without thinking about them anymore. I've got new "attitude," scowling at Toyota Priuses for their lack of gas-saving zeal. On Saturdays, when we do most of our driving, my wife and I sometimes calculate whether we can do all our errands on the Leaf's 100-mile battery without finding a public charging station.
I never thought we would own an all-electric car. But the idea began to dawn over a kitchen table discussion last fall about a replacement for our 14-year-old Honda Accord.
Honestly, if we had not just refinanced the house, we might have ended up with a Honda Fit – not a Nissan Leaf. But we decided to use some of the housing-cost savings from the re-fi on new transportation. Fiscal discipline, we decided, would take a back seat this time to all-electric driving for one key reason: We won't have to fill up ever again (except when we use the minivan for long trips).
To be sure, the Leaf will save us $50 per fill-up, maybe $1,000 a year on fuel. But the Leaf lease payments will swallow those savings – unless gas prices go up maybe to $5 a gallon. No, the real reason Laura and I took possession of an "ocean blue" Leaf on an icy winter day in mid-February was 9/11.
After that terrible day, many people began asking: What can I do in my personal life to make sure this never happens again?
Not a lot, really, I thought at that time. But lately my view has changed. One thing is that it might help to refuse to give "people who hate us" a lot of money for their oil. Simplistic? Yes. Am I going to try it? Yes.
---