My Nissan Leaf life: A good (and affordable) plug-in is hard to find
(Read article summary)
Latest installment of Monitor writer Mark Clayton's quest to buy a plug-in car: There are more than a dozen plug-in vehicles, but high costs and the lack of availability quickly narrow down the choices.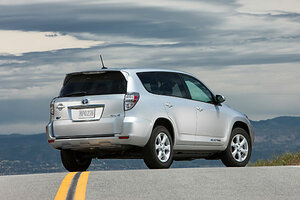 Courtesy of Toyota Motor Sales, U.S.A.
– Third installment in an occasional series
For those eager to sail past gas stations aboard one of the new electric drive cars, 2012 would seem to be the best of times with a dozen new plug-in vehicles hitting dealer showrooms this year. But don't get too excited. There's less here than meets the eye.
Sure, if you are Justin Bieber or a wealthy executive, you can trot down to a Fiskar showroom and pick up a $100,000 Karma electric sports car anytime. But for those of us on a budget, the choices begin to narrow. Throw in the problem of limited availability and, suddenly, you've got to do some research just to find a car you can afford to buy.
At the time I began thinking about a "plug-in" for our new family car, in late 2011, I was leaning toward a Chevy Volt. So, after calling several Chevrolet dealers, we finally found one in Mendon, Mass., that had a red Volt demo model. It wasn't a great experience. The salesmen seemed to ignore it. It wasn't a technology they had been trained on, one of them told me. Finally I rounded up a guy with a little knowledge about the Volt, but I knew more about it than he did.
Still, it was fun to sit in the first-of-a-kind vehicle. (GM has since ramped up its sales force and marketing and the Volt is now widely available.)
---