Stock rally continues, investors buy into market leaders
Stock rally: NYSE and Nasdaq see advancing stocks outnumber declining ones while S&P 500 doubles in record time. Dip in stock rally causes investors to buy into market leaders.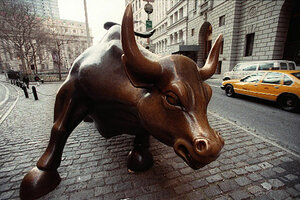 Melanie Stetson Freeman/Staff/File
U.S. investors piled on a dizzying two-year advance in stocks on Thursday, using a brief slip on negative economic news as an opportunity to buy into market leaders.
The technology sector showed strength, with Nvidia Corp (NVDA.O) up 9.8 percent to $25.68 a day after posting a bullish revenue forecast on accelerating sales of its processors.
An index of semiconductors' shares .SOX gained 1.4 percent and is now up 21.3 percent since early December, around the time when the most recent leg of the run-up started.
The S&P energy sector .GSPE gained 0.8 percent. U.S. crude futures jumped 1.7 percent as unrest in the Middle East kept focus on supply, boosting shares of energy companies.
Futures had dipped early in the session after data showed both a rise in consumer prices and new claims for unemployment benefits, but the dip didn't last long after the open.
"People have been focusing on the positives like the outlook for corporations and a good earnings season," said Brian Lazorishak, a money manager at Chase Investment Counsel in Charlottesville, Virginia.
---
Follow Stories Like This
Get the Monitor stories you care about delivered to your inbox.