Smaller Walmart stores: A threat to local businesses?
Walmart announced plans to introduce hundreds of new smaller stores. Should small business owners be worried?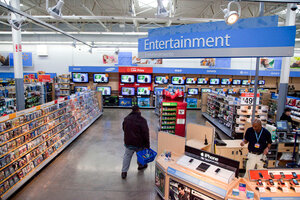 AP/File
A longtime foe of small business owners, big box retailer Walmart now is threatening to invade their space even further with the introduction of hundreds of new smaller stores.
This time around, though, experts believe small business owners, who often have a loyal customer base and knack for customer service, may not be so outmatched.
"People have learned to compete with them over the years," said Kenneth Stone, a professor of economics at Iowa State University who has been researching Walmart for more than 20 years. "There are many examples around the country of small businesses that are very astute at offering what the public wants."
According to Bloomberg News, Walmart is beginning construction this month in Arkansas on three of its new smaller-format stores, which will be just one-tenth the size of the usual 185,000 square-foot Supercenters. The smaller stores will feature a grocery section and a pharmacy.
Stone said this isn't the first time the big box giant has tried a new approach.
"They have been playing around with various formats for years, and they haven't had too much luck with it," Stone told BusinessNewsDaily. "I think they are going to have a tough time with this one also."
---