LinkedIn, Pandora: future of Internet IPOs?
LinkedIn stock tumbled more than 8 percent Friday. Pandora now priced below its IPO level, although LinkedIn, Yandex still well above theirs.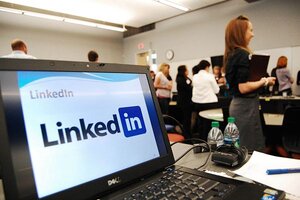 Tim Post/Minnesota Public Radio/AP/File
LOS ANGELES – Wall Street may have had its fill of new Internet-related stocks for the moment.
Shares of online radio firm Pandora Media Inc. plummeted on their second day of trading Thursday as investors suddenly fled for the exits.
The Oakland, Calif., company's stock fell $4.16, or 24 percent, to close at $13.26 — 17 percent below the initial public offering price of $16 on Tuesday.
The stock had soared as high as $26 on Wednesday, its first trading day, mirroring the debuts of other new Internet issues this spring, including LinkedIn Corp., Chinese social networking site Renren Inc. and Russian search engine Yandex.
Investors' hunger for the current crop of Internet stocks has echoed the late-1990s dot-com boom, although the market today seems far less frothy than the worst excesses of the dot-com era.
Still, rushing to buy the stocks just as they hit the market has proved to be a fool's game, a point that seemed lost on investors who crowded into Pandora on Wednesday.
Last month, LinkedIn and Yandex both pulled back in their first few days of trading from their highs, although those stocks still are above their IPO prices.
On Thursday LinkedIn tumbled $6.35, or 8.5 percent, to $68.27, but the stock remains 52 percent above its IPO price of $45. The shares rose as high as $122.70 when they began trading May 19.
Yandex edged up 26 cents to $30.53 on Thursday. It's down 27 percent from its peak of $42.01 on May 24, its first trading day, but up 22 percent from its IPO price of $25.
---