GM reclaims title as world's No. 1 automaker
GM is once again the top-selling automaker in the world. The company's sales jumped 7.6 percent over the last year.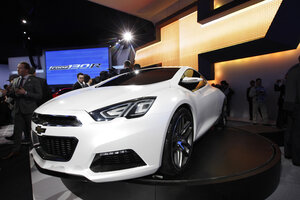 Paul Sancya/AP/FILE
General Motors Co. has retaken the title of world's top-selling automaker, selling just over 9 million cars and trucks across the globe.
The company said Thursday that it sold 9.03 million vehicles worldwide last year, up 7.6 percent from 2010. That's more than 1 million better than Japan's Toyota Motor Corp., which took the title away from GM in 2008.
GM had held the global sales crown for more than seven decades before losing it to Toyota, as GM's sales tanked while it headed toward financial ruin. In 2009, GM filed for bankruptcy protection, needing a U.S. government bailout to survive.
RELATED: Is your dream car a top safety pick?
Now GM is profitable again and its vehicles are selling well across the globe. The company reported net income of $7.1 billion for the first three quarters of last year, and it is expected to add to that number when it reports fourth-quarter and full-year results in February.
In 2011, Germany's fast-growing Volkswagen AG took second place behind GM with record global sales of 8.16 million, up 14 percent from the year before. The French-Japanese alliance of Renault and Nissan was third, selling 8.03 million vehicles.
---