Stanford found guilty in $7 billion Ponzi scheme
The Texas financier was convicted Tuesday on 13 counts of fraud and other charges.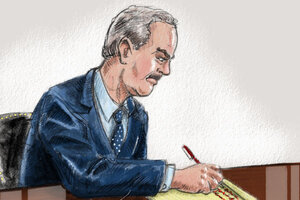 Ken Ellis/Houston Chronicle/AP
Texas tycoon R. Allen Stanford, whose financial empire once spanned the Americas, was convicted Tuesday on all but one of the 14 counts he faced for allegedly bilking investors out of more than $7 billion in massive Ponzi scheme he operated for 20 years.
Jurors reached their verdicts against Stanford during their fourth day of deliberation, finding him guilty on all charges except a single count of wire fraud.
Stanford, who was once considered one of the wealthiest people in the U.S., looked down when the verdict was read. His mother and daughters, who were in the federal courtroom in Houston, hugged one another, and one of the daughters started crying.
"We are disappointed in the outcome. We expect to appeal," Ali Fazel, one of Stanford's attorneys, said after the hearing. He said the judge's gag order on attorneys from both sides prevented him from commenting further, and prosecutors declined to comment after the hearing.
Prosecutors called Stanford a con artist who lined his pockets with investors' money to fund a string of failed businesses, pay for a lavish lifestyle that included yachts and private jets, and bribe regulators to help him hide his scheme. Stanford's attorneys told jurors the financier was a visionary entrepreneur who made money for investors and conducted legitimate business deals.
Stanford, 61, who's been jailed since his indictment in 2009, will remain incarcerated until he is sentenced.
---