Jobless claims fall to four-year low as economy rebounds
Unemployment assistance applications dropped to a seasonally adjusted 348,000, the lowest level since February 2008. The drop coincides with the best three months of hiring in two years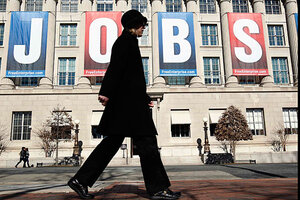 REUTERS/Kevin Lamarque/Files
The number of people seeking unemployment aid in the US fell to a four-year low last week, bolstering the view that the job market is strengthening.
The Labor Department said Thursday that weekly applications dropped 5,000 to a seasonally adjusted 348,000, the lowest level since February 2008. The four-week average of applications, a less volatile measure, dipped to 355,000. That's also a four-year low.
Applications have steadily declined since last fall. The drop has coincided with the best three months of hiring in two years. From December through February, employers added an average of 245,000 jobs per month. That's pushed down the unemployment rate to 8.3 percent, the lowest in three years.
The report suggests that employers likely added a similar level of jobs in March.
RECOMMENDED: Ten tips for finding a job
Companies are hiring more because the economy is picking up. The economy grew at an annual rate of 3 percent in the final three months of last year. That was better than the 1.7 percent rate in the previous quarter.
There are other signs the economy is steadily recovering. Consumers are more confident and have stepped up spending. Auto sales are rising. Even the battered housing market is showing signs of improving.
---