Best Buy CEO Brian Dunn steps down
Best Buy CEO Brian Dunn has decided to resign from the big box retailer. Dunn has been Best Buy CEO for almost three years.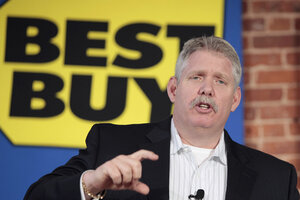 Lucas Jackson/REUTERS/File
Best Buy CEO Brian Dunn is stepping down from the nation's largest consumer electronics retailer, a company that has been largely criticized for not responding quickly enough to growing competition and the changing shopping habits of Americans.
Best Buy Co., based in Minneapolis, said Tuesday that it was a mutual decision, and that there were no disagreements with Dunn on any matter relating to operations, financial controls, policies or procedures.
But Dunn, a 28-year veteran of Best Buy, had been CEO and director since June 2009, and the company said it was time for new leadership given the challenges the company faces.
Best Buy said that it has already created a search committee for identifying and choosing its new CEO. Board member Mike Mikan, 39, will serve as interim CEO while the company searches for a permanent replacement. Richard Schulze will continue as chairman.
Best Buy's shares were down 51 cents, or 2.3 percent, to $21.14 in after initially climbing higher on the news.
"I think the departure is long overdue," said Brian Sozzi, chief equities analyst at NBG Productions, an independent research firm. "Best Buy's operational strategy has been way off the mark and late to address the fundamental industry upheaval."
The news comes as the pioneer of the big-box consumer electronics retailing format struggles to regain its footing. Best Buy lost $1.23 billion in the last quarter and revenue at stores opened at least a year, a key metric, dropped 1.7 percent for the year after having fallen 1.8 percent in the prior year.
---