Dick Clark: Music-TV mogul, restaurateur, investor, and entrepreneur
Dick Clark was known as a media mogul with integrity and unbounded energy. Dick Clark built a business empire that changed television and music.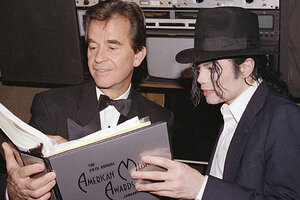 (AP Photo/file)
Dick Clark married music and television long before "American Idol." But his legacy extends well beyond the persona of the laid-back host of "American Bandstand" whose influence can still be seen on TV today.
He was the workaholic head of a publicly traded company, a restaurateur, a concert promoter and real estate investor. Clark, who died Wednesday, left behind a fortune and is the model of entertainment entrepreneurship embodied today by "Idol" host Ryan Seacrest.
"Work was his hobby," said Fran La Maina, the longtime president of Dick Clark Productions Inc.
IN PICTURES: Dick Clark remembered
La Maina started as the production company's financial controller in 1966. He estimates Clark amassed a fortune that reached into the hundreds of millions of dollars.
"He had this never-give-up attitude. He was a great salesperson and a task master," La Maina said.
Clark was one of the early pioneers of the idea that a public company can be formed around an entertainer's personal appeal. By the time La Maina went to work for him, Clark already had three shows on air: "Swingin' Country," ''Where the Action Is," and, of course, "American Bandstand."
He promoted more than 100 concerts a year back when promoters, not bands, called the shots. His roster included The Rolling Stones and Engelbert Humperdinck. In the 1970s, he launched shows like the "American Music Awards" and "New Year's Rockin' Eve" — shows that are highly valued by advertisers because fans still want to watch them live in an age of digital video recorders.
---