From Our Files: Dick Clark 1986 Interview, 'Guru of pop compares three decades of rockin' teens'
Dick Clark, television personality and producer, entrepreneur and music enthusiast, was affectionately known as 'America's Oldest Teenager.' Millions of teenagers grew up watching 'American Bandstand,' which Clark hosted from 1957 - 1989, and began the New Year for forty years with Clark, and "New Year's Rockin' Eve.' 'American Bandstand' propelled many musicians' careers, as well as the pop music industry. Clark, who died today, was interviewed by the MONITOR in 1986, where he spoke about generations, musical styles, racial integration, and what kept him motivated.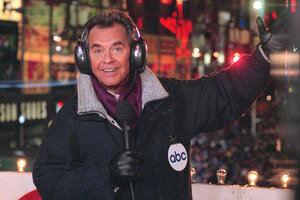 Donna Svennevik / ABC
"A 40-year-old today is thinking much younger than a 40-year-old of the '40s and '50s,'' says Dick Clark. ``That's a function of having been loosened up in their perspective. They think younger and kids think older.'' If anyone should know, it's Mr. Clark, one of pop culture's indelible figures. Millions of middle-aged people can mark their youth with an image of him as the boyish TV host of ``American Bandstand,'' deftly presiding over a generation of high school couples as they danced their way through a social revolution.
``In those days kids were musically not as sophisticated as they are today,'' Clark observed as we chatted here, ``so everybody could like the same thing at the same time. Now it's 17 different kinds of popular music, and classical and jazz. What changed was that from 1955 on -- and for 30 years thereafter -- you have people who grew up with music and developed a fine taste.''
Clark has now become one of the most visible faces on today's TV -- the only personality, in fact, to be host of series on all three TV networks simultaneously. He's also a hugely successful media entrepreneur. Tonight, for instance, ABC-TV will be airing a three-hour live special -- ``American Music Awards'' -- produced by Mr. Clark's company. And he looks forward -- rather zestfully -- to further adventures in film and series TV production.
Most important, Clark is still host of ``Bandstand,'' now in its 34th consecutive year on the air -- an astonishing record in the face of shifting TV fortunes. During that time, he's watched rock take over, musical tastes become fragmented, and social attitudes reversed.
---