'Soul Train' icon Don Cornelius changed the beat of the nation
'Soul Train' creator, Don Cornelius, took the pulse of black culture and broadcast it into living rooms across the nation. Before Facebook and Twitter, he connected a generation of teens.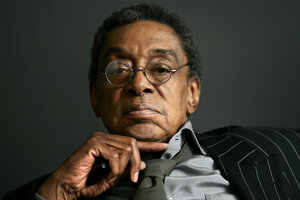 Damian Dovarganes/AP
Groundbreaking African-American music entrepreneur and cultural icon Don Cornelius, who died of a gunshot wound Wednesday, understood social media long before it was even a glint in Mark Zuckerberg's eye. Creator of the landmark syndicated TV show "Soul Train," which ran from 1971 to 2006, the Chicago radio broadcaster and former Marine took the pulse of Chicago black teen culture and turned it into the beat of the nation.
Often dubbed the "black 'American Bandstand'," fans and cultural pundits insist the program was much more. "It was political and cultural as well as musical," says Rodric Bradford, a contributor to SoulTrain.com, the online magazine devoted to carrying the show's legacy forward.
The genius of Mr. Cornelius, Mr. Bradford says, was in understanding that at that time each city had a growing African-American culture, but long before the immediacy of Facebook and Twitter, they were not connected to each other.
The show was what Cornelius called "the electronic drum" – a reference to the way some African tribes communicated from one village to another. "There was no other way for this culture to be transmitted on a rapid basis, but Cornelius understood that TV was the medium of the day," says Halifu Osumre, director of African-American studies at the University of California, Davis and a specialist in hip-hop culture. "It brought these regional sounds and moves together to a national audience."
---