TNT sale to UPS blocked by European regulators
TNT Express was set to be absorbed by shipping giant UPS, but the sale was blocked by the European Union's antitrust chief. UPS first offered to buy TNT Express in March to increase its shipping footprint in Europe.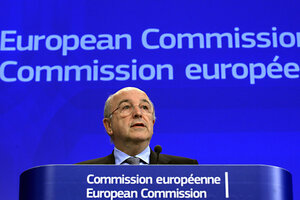 Yves Herman/Reuters/File
The European Union's antitrust chief on Wednesday rejected a $6.9 billion deal for UPS to acquire Dutch delivery company TNT Express and said he was surprised the U.S. group jettisoned the venture when there was still hope for a solution.
Antitrust Commissioner Joaquin Almunia said that European businesses "would have been directly harmed" by the takeover "because it would have drastically reduced choice between providers and probably led to price increases."
UPS had offered in March to buy TNT, Europe's second-largest delivery company, to better compete with Europe's largest, Deutsche Post's DHL. UPS said that it had proposed "tangible remedies" but Almunia said they were "simply not enough."
Sensing a likely rejection, UPS scrapped the acquisition on Jan. 14, hitting the stock price of the Dutch delivery company. The decision surprised Almunia, convinced there still was room to find a compromise.
"I have to confess that I was a little bit surprised because we still had time when they published this statement," Almunia told reporters.
"We have experience that the final elements of a possible solution, a positive alternative, are not found the first day of negotiations but as close as possible to the last day of negotiations," he said.
---