Despite slowing growth, shareholders' faith in Warren Buffett holds strong
At Berkshire Hathaway Inc's annual meeting, investors acknowledged the company's fastest-growing days have probably passed. But shareholders say they are still confident with Warren Buffett and his hand-picked management team at the helm.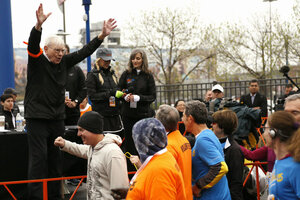 Rick Wilking/Reuters
Short-seller Douglas Kass, Warren Buffett's handpicked bear, raised a concern on the minds of many shareholders at the "Woodstock for capitalists" this weekend: Has Berkshire Hathaway Inc become so big that it will find it hard to grow?
Many retail investors who converged on Omaha, Nebraska, for Berkshire's annual meeting on Saturday acknowledged that its fastest growth days are likely behind it. But they said Berkshire is still a good long-term bet as faith remains in Buffett and his management team's more than 4-decade-long record of stellar returns, and the company's tentacles into many sectors of the US economy.
"Yes, it is a concern, but I have to get my expectations in line," said Julie Fehrnstrom, a mother of three from Orinda, California, attending her fifth meeting. "They are not driven by short-term decision making and they have really smart management. You really don't always find that."
Sherrie Palmer, a social worker from Portage la Prairie, Manitoba, was attending her first Berkshire meeting, one of 35,000 or so investors.
"The steepness of the growth is leveling off, but it's not a concern," Palmer said. "We like the manner in which decisions are made and I don't worry about this being an organization jumping to a fad that won't pan out."
---