Buffett $5.6 billion investment expands Berkshire's energy footprint
Warren Buffett's Berkshire Hathaway firm is investing $5.6 billion in energy. Buffett's MidAmerican Energy utility will buy a Nevada electric and natural gas company, NV Energy, Inc., for $5.6 billion.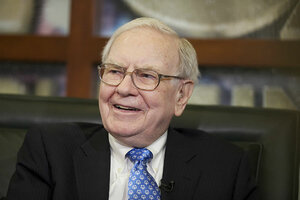 AP Photo/Nati Harnik
Warren Buffett has found another elephant.
Berkshire Hathaway's MidAmerican Energy utility said Wednesday that it will buy Nevada electric and natural gas company NV Energy Inc. for $5.6 billion as it expands its footprint in the energy sector. MidAmerican has been aggressively investing in renewable energy projects in recent years, and the companies expect that MidAmerican's experience will help NV Energy develop renewable projects in Nevada, which has vast solar, wind and geothermal resources.
Utility companies also have been slowly consolidating in recent years in the face of weak electric demand and rising costs, related to upgrading aging infrastructure and making power generation cleaner to meet tighter environmental regulations. The hope is to lower borrowing and other costs in an effort to maintain profitability.
The NV deal is one of MidAmerican's biggest and follows Berkshire's $23.3 billion takeover of H.J. Heinz Co. in February. Buffett said in March that many of the companies that Berkshire owns outright — including MidAmerican Energy, Lubrizol chemicals and HomeServices of America — together made 26 smaller acquisitions for $2.3 billion last year. And both Buffett and his companies continue to search for worthy targets on which to spend more of their cash hoards. "We still have plenty of cash and are generating more at a good clip," Buffett wrote in March. "So it's back to work; Charlie and I have again donned our safari outfits and resumed our search for elephants."
---