Foreclosures fall nationwide, but problem lingers in some states
Foreclosures fell in June to their lowest leve since December 2006, but a lengthy judicial foreclosure process in certain states is leading to a rise of pent up foreclosure activity.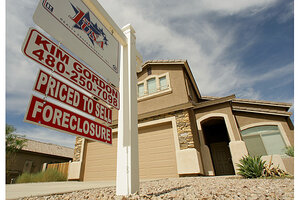 Ross D. Franklin/AP/File
U.S. foreclosure activity in June fell to the lowest level since December of 2006, but certain states are seeing a rise in activity, as judges work through tremendous backlogs of delinquent loans. Close to 128,000 properties received some kind of foreclosure filing in June, down 35 percent from a year ago, according to a new report from online foreclosure sales and analytics company RealtyTrac. Newly started foreclosures fell 21 percent month-to-month to the lowest level since the end of 2005.
Bank repossessions, the final stage of the foreclosure process, fell 9 percent month-to-month and were down 35 percent from a year ago. Still the numbers are on pace for nearly a half a million properties to be repossessed in 2013. That's an improvement, but still well above normal levels.
The picture is also mixed geographically – Arkansas (up 143 percent), Oklahoma (up 103 percent), Maryland (up 74 percent), Washington (up 71 percent), New Jersey (up 33 percent), and New York (up 21 percent) –as states that require a judge in the foreclosure process as well as those with new laws protecting borrowers, are seeing a spike in repossessions.
---