Prepaid cards are here to stay. Do you need one?
(Read article summary)
Prepaid cards are surging: By 2013, consumers could be loading three times the amount of cash they carried on prepaid cards in 2010.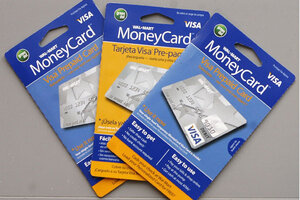 Brendan McDermid/Reuters/File
There's an odd phenomenon going on right now: US consumers continue to rack up credit card debt at record rates ($50 billion this year for the second consecutive year), yet the fastest-growing financial product is a card that pays your bills without credit. Prepaid cards are a kind of anti-credit card, which you should find out about and decide whether one would be useful for your financial situation.
The surge in prepaid cards can be traced to Oct. 1, 2011. That is when the Federal Reserve began capping the fees that large banks can charge merchants when debit cards are used as payment in their stores. Faced with annual revenue losses of more than $8 billion, banks decided to deemphasize debit cards (and the checking accounts that go with them) and push the prepaid card instead.
It's a natural alternative. You load money onto a prepaid card, through direct deposit of your check or, say, at the grocery store, then use that card to make purchases, pay monthly bills, and withdraw cash from automated teller machines (ATMs).
We've seen checking account fees rise, debit card rewards programs cut, new prepaid cards launched, and others emphasized with the aid of celebrity endorsers. That's all helped fuel projections that consumers will load $117 billion onto prepaid cards in 2013 – a 200 percent increase since 2010.
Consumers are using them in at least three different ways. One of the main roles is as an alternative checking account. Prepaid cards are also well suited to be alternative check cashing tools for the roughly 17 million US adults who are unbanked, according to the Federal Deposit Insurance Corp., since some of them allow you to both load funds via check and make cash withdrawals for free. Finally, prepaid cards can be useful in teaching young people how to manage their money responsibly, since they allow kids to practice budgeting, using ATMs, and making purchases with plastic in a low-risk environment.
---