Recovery's not enough. Rekindle America's entrepreneurial fires.
(Read article summary)
America needs a long-term plan to rekindle its entrepreneurial spirit and spur new ventures.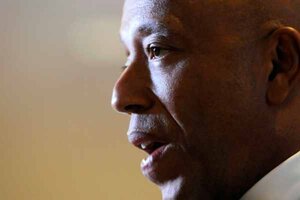 Jonathan Ernst/Reuters/File
Several of you have sent me the June 20, 2011 cover article from Time magazine on what they consider to bel the five myths about the economy.
The part of this article most relevant to all of us is this one:
Myth No. 5: Entrepreneurs are the foundation of the economy
Entrepreneurship is still one of America's great strengths, right? Wrong. Rates of new-business creation have been contracting since the 1980s. Funny enough, that's just when the financial sector began to get a lot bigger. The two trends are not disconnected. A study by the Kauffman Foundation found an inverse correlation between the two. The explanation could be tied to the fact that the financial sector has sucked up so much talent that might have otherwise done something useful in Silicon Valley or in other entrepreneurial hubs. The credit crunch has exacerbated the problem. Lending is still constrained, and the old methods of self-funding a business -- maxing out credit cards or taking a home-equity loan -- are no longer as viable.
Let's dissect this paragraph to see what is really going on.
We need to start with the first line -- "Rates of new-business creation have been contracting since the 1980s". I contacted a few people I know who follow such statistics. It seems that there is some truth in the statistics they cite. A couple of long-term studies do show decline in net start-up rates. But the data does not suggest a steady long-term decline as the article in Time suggests. Rates have been in turmoil over this time period, with two periods of significant decline -- one around 2000 when the dot.com bubble created an inflated number of start-ups which was followed by the dot.com bust -- and another decline in start-ups began when the current recession began.
---