Toyota recalls hurt its sales, but Ford and others gain
(Read article summary)
Toyota recalls, investigations, and congressional hearings hurt the company and buoyed sales results of Honda, Ford, Hyundai, and others. But it could have been worse.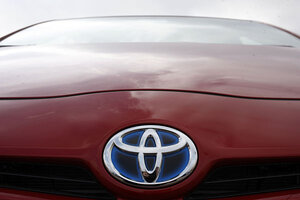 David Zalubowski/AP
Recalls of some of its best-selling cars. Congressional hearings and federal investigations into safety problems. Problems with accelerators, brakes, and possibly with steering systems and lawsuits stemming from them.
Yes, it's been a horrific February for Toyota.
So when the world's largest automaker announced Tuesday that it sold just over 100,000 vehicles in the United States in February, down 8.7 percent from the same period a year ago, the immediate industry reaction was: It could have been worse.
"They still sold 100,000 units," said Jessica Caldwell, senior industry analyst at Edmunds.com, in a conference call with reporters. "They're still the third best-selling automaker in February."
Several competitors gained as a result of Toyota's troubles. Honda was a big winner, with US sales up 12.7 percent in February over a year ago. Ford also gained, with sales jumping an enormous 43 percent last month. Ford outsold General Motors in February to become the best-selling automaker in the US for the first time in 12 years.
But Ford played down the Toyota effect.
"There's a little leakage" from Toyota, George Pipas, Ford's sales analyst, told CNBC Tuesday. But "the increase that we saw this year was not a Toyota thing. It was a Ford product thing that we've seen for the last year and a half."
---