Health insurance: a push to restrict choice in 2014?
(Read article summary)
Health insurance reform will give consumers one-stop shopping to compare and sign up for insurance plans. But in states like New Mexico, not all plans may be included.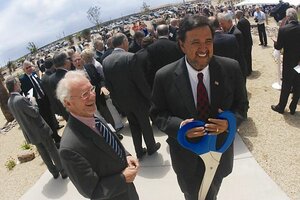 Kimberly Ryan/Hobbs News Sun/AP/File
One of the most consumer-friendly changes coming in America's health reform will be the ability to easily compare health plans.
Starting in 2014, each state can establish a health insurance exchange, a one-stop shop where consumers can compare and sign up for health insurance.
On Thursday, the US Department of Health and Human Services announced that each state could receive up to $1 million in federal grants to set up the exchanges. The idea is that government creates the marketplace; the private sector competes..
But it isn't that simple. Since each state can craft its own insurance exchange (or leave it to the federal government), there are likely to be numerous variations in the data consumers receive. Some states may give their residents information on all the plans available; others may not.
New Mexico appears to be heading down the second path. Two weeks ago, a panel appointed by New Mexico Gov. Bill Richardson recommended that the state establish an exchange that "assumes an active role in driving market reforms and protecting consumers."
---