SAT test creator: Don't let tuition hikes scare you
(Read article summary)
SAT test company, The College Board, releases studies saying that while tuition still outpaces inflation, jumps in federal and private grants are keeping up.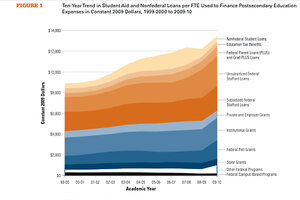 Trends in Student Aid / College Board / www.collegeboard.com
The costs of attending college – tuition, room, board, fees, books – keep spiraling upward. Over the past decade, the published tuition and fees – the "sticker price" – rose 5.6 percent a year at public universities and 3.0 percent a year at private colleges, in constant dollars, the College Board reported Thursday. Just last year, in-state tuition jumped 7.9 percent at public universities, while private colleges showed a 4.5 percent increase.
That's the bad news.
The good news is that almost nobody pays sticker price anymore, thanks to $200 billion (yes, billion) in grants (federal, state, and private), federal loans, federal tax credits and deductions, and federal work-study for undergrads and grad students, according to Trends in Student Aid 2010. Private and state loans added another $8.5 billion.
"Despite rising prices," said Sandy Baum, independent policy analyst for The College Board and co-author of the studies, "after considering grant aid and tax benefits, on average students are paying less in tuition and fees than they were five years ago."
But that sticker price is a powerful deterrent for some.
---