Borders bankruptcy shakes up book industry
(Read article summary)
Borders bankruptcy will mean the closure of some 200 superstores, reshuffling an industry that's already reeling from technological change.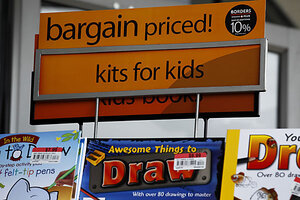 Mike Blake/Reuters
The bankruptcy of Borders Group has sent a shockwave through the book industry, not because it was unexpected, but because it reshuffles an industry that's already going through a wringer of technological change.
On Wednesday, the Ann Arbor, Mich., based company announced it was filing to reorganize under bankruptcy and would close some 200 of 642 stores around the United States. The immediate effects aren't all negative.
Consumers could see clearance sales begin as early as this weekend. Rival booksellers could pick up new customers as the Border's stores close.
But "it's certainly not a hurrah," says Daniel Goldin, owner of Boswell Books in Milwaukee. "I worry more about the publishing industry.... With a competitor gone, it puts more power in the hands of Amazon. It brings thee players down to two."
The bookstore chain reportedly owes $41.1 million to Penguin Putnam, $36.9 million to Hachette Book Group, $33.8 million to Simon & Schuster, and $33.5 million to Random House.
---