Qualities that could solve America's budget crisis
(Read article summary)
Among the qualities: 'attunement' and equipoise. America's budget crisis won't be solved through 'book smarts' alone.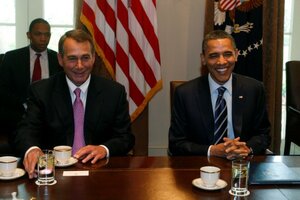 Kevin Lamarque/Reuters/File
Student No. 1: National Merit Scholar, near-perfect SAT score, now a freshman at highly ranked Princeton University.
Student No. 2: High school senior, not-so-perfect SAT score, recently accepted at unranked Sarah Lawrence College.
Does this imply that Student No. 1 is the "smarter" of the two? For me, their mother, that would be as wrong as suggesting that I love one of my daughters more than the other. Allie and Emily are as different and exceptional as the schools that picked them. What's key to determining worth is the measuring stick you use.
Princeton is the second-best university in the United States, right behind Harvard, according to the latest survey from U.S. News & World Report. For many parents trying to figure out which college will provide the best education for their kids – or at least which schools will best validate their kids' "worth" to the outside world – numerical rankings like the U.S. News list are the holy grail.
Sarah Lawrence, which cited daughter Emily's "stellar academic achievement" and ability to "stretch the limits of conventional thinking," is unranked by U.S. News. Since 2005, its stated policy has been to ignore SAT scores in its admissions process. "The information produced by SAT scores added little to our ability to predict how a student would do at our college," wrote then-President Michele Tolela Myers in a 2007 op-ed.
SEE ALSO: Just promoted to manager? Here are 11 ways to shine.
---