US debt crisis: Can a deeply divided 'Gang of Seven' make any progress?
The members of the House and Senate who were appointed to the latest presidential deficit panel represent the starkest partisan views on Capitol Hill. But that could be a good thing.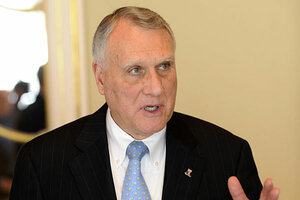 Roman Koksarov/AP
It took a warning shot from a credit rating agency this week to jumpstart President Obama's plan for bipartisan, bicameral talks over the nation's debt crisis, now set to begin May 5.
A day after Standard and Poor's slapped a "negative" long-term credit outlook on the US (along with Spain) Republican leaders on Tuesday appointed Senate minority whip Jon Kyl (R) of Arizona and House majority leader Eric Cantor (R) of Virginia, to join four Democrats and Vice President Joe Biden on the latest presidential deficit panel.
A high-level panel tasked with setting the nation on a new fiscal course would seem to be a step in the right direction as Congress nears a critical vote on raising the national debt ceiling.
However, unlike the bipartisan "Gang of Six" senators who have been trying to reach an agreement on these very same issues, the newly minted "Gang of Seven," as some commentators are referring to the new negotiators, represents the starkest partisan views on Capitol Hill: The GOP appointees oppose tax increases, the Democrats oppose cuts to entitlements, especially Social Security.
---