In Senate, 2012 federal budget drama could take bipartisan turn
The House passed its federal budget bill Friday on a near party-line vote, but both the Senate and the president are working hard to forge a bipartisan alternative.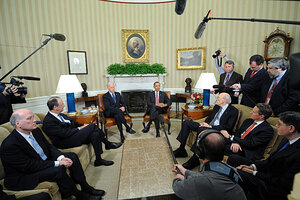 Jewel Samad/AFP/Newscom
The new House budget for 2012 draws heavily on the vision of a one-man think tank, Rep. Paul Ryan (R) of Wisconsin, who called today's vote a "defining moment."
The plan, which passed today on a near party-line vote, 235 to 193, aims to lop some $5.8 trillion off federal spending over the next 10 years. It would do this mainly by embracing Congressman Ryan's signature issue – overhauling entitlements such as Medicare and Medicaid – but also by cutting the federal workforce by 10 percent and setting a binding cap on total spending as a percentage of the economy.
But the path ahead signals a completely different means of lawmaking. Where the House's so-called "Ryan bill" is associated with only one man, both the Senate and the president are focusing on trying to build bipartisan consensus.
In the Senate the so-called Gang of Six senators – including four veterans of the president's Simpson-Bowles deficit commission – have been working behind closed doors for nearly five months to translate the findings of that commission into legislative language that could pass the Senate. Meanwhile, President Obama this week called on congressional leaders to set up nine-member, bipartisan group, headed by Vice President Joe Biden, to produce a blueprint by the end of June to cut $4 trillion out of federal deficits.
---