Slash that budget deficit? No, cut it artfully.
(Read article summary)
Budget deficit is economically unsustainable. But cuts can lower growth, unless you trim the budget deficit carefully.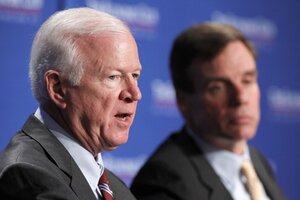 Alex Brandon/AP/File
The United States budget deficit has become a crucial issue lately, and not just because it's about to put us over the debt limit. The concern is not so much that the deficit is unusually large right now, as we're still recovering from an unusually bad recession. The problem is that over the next several decades, even if the economy moves back to full employment, the fiscal outlook looks unsustainable.
What does an unsustainable budget look like?
Imagine that Uncle Sam takes out a loan (the national debt) to buy an investment (the US economy). As long as the economy grows faster than the debt, everything's great. Even when Uncle Sam falls short on his monthly payments and borrows even more to make up the difference (the federal deficit), lenders aren't going to panic as long as the economy keeps growing faster than the debt.
Everyone knows Uncle Sam is getting richer, so he can afford the bigger debt.
Here's the problem: Over the past few years, federal budget deficits have been equivalent to about 9 to 10 percent of the size of our economy (as measured by gross domestic product). That means each year America's total debt has grown by a commensurate amount. Even when the recession ends and those deficits are projected to come down to 6 or 7 percent of GDP over the next decade under current policies, that implied growth rate of the debt will still far exceed the expected 2 to 2.5 percent annual growth in the economy over the same period.
That's the definition of economically unsustainable: when an economic obligation rises faster than the means to pay for it.
President Obama's fiscal commission set a goal of getting deficits down to about 3 percent of GDP within five years – 3 percent being the average annual growth rate of the US economy since World War II. But the magic number might not be 3 percent, if, for example, the economy doesn't turn out to grow at 3 percent on average in the future.
---