Eurozone solution: Save banks, not nations
(Read article summary)
The eurozone needs an enforcer who can tell lawmakers what they don't want to hear: They have to let some eurozone nations fail and make sure eurozone banks don't.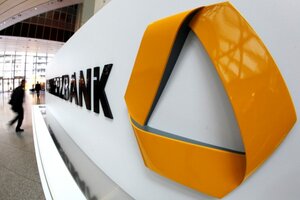 Michael Probst/AP/File
What Europe needs now is a good "heavy," a bad hombre who talks tough enough to scare the politicians and citizens into doing the right things – and who will make them face the consequences if they don't.
An enforcer seems to be the only way to shove Europe's debt-laden nations toward fiscal sustainability and keep the eurozone from blowing up. The problem is: The obvious candidates for the post aren't up to the job.
The International Monetary Fund usually does the dirty work with developing nations. But it doesn't appear to have the resources to muscle an Italy or a Spain into line.
A European fiscal union could swing the job. For Germany to agree on any union in which it and other strong members would guarantee Eurobonds that bail out weaker nations, it would demand the kind of stringent rules and accountability that are sorely needed. While this fiscal union may be gradually taking shape, it remains patchy at best and lacks a defined process to rescue struggling nations.
So European policymakers need to embrace the only enforcer they currently have: the bond market itself. As Greece, Ireland, and Portugal have already found out, the bond market is a particularly unforgiving taskmaster that cares not one whit for diplomatic niceties or political sensitivities. When it speaks, it tells uncomfortable truths.
The first truth the eurozone needs to understand is particularly uncomfortable: Member nations may default. Government defaults are nothing new. However, the eurozone should take great care that a default does not lead to an implosion of its financial system, as it would cripple the real economy.
---