Job growth slows in March. Is it payback?
(Read article summary)
The disappointing March employment report suggests job growth is coming back in sync with economic expansion after unusually strong job growth in the winter.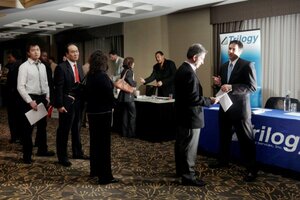 Elise Amendola/AP/File
For weeks now, debate has raged over a mystery that only an economist could love: Why is the number of jobs growing faster than what the underlying growth of the economy would seem to justify?
Is the economy really growing faster than the numbers show? Or has the relationship between growth and employment changed? Or is the jobs number skewed?
On Friday, economists got the first piece of the answer. The Labor Department released a disappointing employment report, saying the US economy created 120,000 new nonfarm jobs in March, only half the total added in February and the smallest jobs gain since October. The argument that the economy is growing faster than the data show fell like a thud.
So, assuming that the relationship between economic growth and employment remains intact, the best explanation for the mystery is that the jobs number is out of whack.
The reason, many economists speculate, is that firms panicked during the recession and fired too many people. So when the recovery began, they had to hire more than the usual contingent of workers just to catch up with the growing demand. Fed Chairman Ben Bernanke himself championed the catch-up theory in a speech last month.
Another explanation for the better-than-expected job numbers from the winter is the weather theory. It suggests that everything from retail sales to construction was boosted because of the unusually warm winter enjoyed by much of the nation.
The challenge with both the catch-up and weather theories was that, at some point, there would have to be a payback. Exaggerated hiring under catch-up would level off once firms caught up with demand. Retail sales and hiring boosted in warm January and February would slow more than expected come spring.
---