Ten sectors investors should avoid in 2012
(Read article summary)
Investors beware: If you want big returns this year, don't put your money in developing countries, banks, or homes (including yours).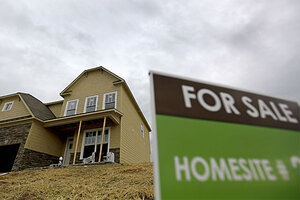 David Goldman/AP/File
Investing is about making good choices. It's also about avoiding bad ones.
Last month, we looked at nine investment themes for 2012. Here is my list of the 10 areas investors should avoid. In my view, we're in an age of deleveraging, which began in 2007 and probably has another five to seven years to run. Despite rising economic optimism, I foresee a moderate US recession, a hard landing in China, and a severe recession in Europe – in sum, a global recession in 2012.
1. Developed country stocks: This theme reflects my forecast of a downturn in global economic activity accompanied by financial crises of unknown depth. The United States and other developed economies are in a secular downswing that includes a secular bear market in equities.
2. Your house, second home, or residential investment property: If you plan on selling soon, do so yesterday. If I'm right and house prices have another 20 percent to fall in the next several years – after already declining 33 percent – this approach is obvious.
3. Home builders and related companies: Conditions now are far different from when home building was a growth industry characterized by lax underwriting standards, laissez-faire regulation, and, most of all, conviction that house prices would never fall. All those conditions have now been reversed.
4. Selected big-ticket consumer discretionary equities: With real incomes falling amid a continuing need to repay debt, I expect consumers to retrench this year – to the detriment of cruise lines, automakers, high-end consumer electronics, recreational vehicles, and resorts.
---