Government shutdown? A leap of trust can seal a budget deal
As Washington once again careens toward a government shutdown and clash over the debt ceiling, we're hopeful that Congress and the White House can reach a budget deal. Last winter, President Obama and Speaker Boehner were actually quite close to an agreement.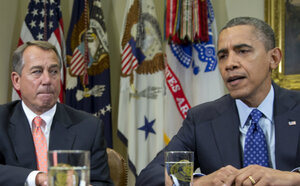 Carolyn Kaster/AP/file
Budget talk in Washington is again dominated by nonnegotiable demands and a potential government shutdown – or even an unprecedented default on US debt in October. Despite the heated rhetoric, we believe that a bipartisan agreement is still possible on a meaningful budget deal that puts America on the path to fiscal responsibility.
We believed this in 2010, when we co-chaired a bipartisan national commission to fix the debt, and we still believe it. The country simply can't afford to keep lurching from one fiscal crisis to the next. True, some fiscal progress has been made, but the underlying problem remains: In just a decade, the debt will be equal to 77 percent of our economy – draining resources to pay interest on the debt, and negatively affecting American jobs, consumer credit, and the country's competitiveness.
Still, we're hopeful about a fiscal deal, in part because of our experience in revising a deficit-reduction plan based on last winter's negotiations between President Obama and House Speaker John Boehner. In the process of splicing that plan together, it became clear to us that the two sides had been quite close to reaching an agreement and that the remaining policy differences could be bridged if both sides were willing to go a little further and come to a principled compromise without compromising their principles.
---