How 'we the people' can end gridlock in Washington
Americans are not nearly as polarized as Congress and favor practical solutions. But the means they have for communicating with their representatives are no longer effective. That's why we're starting a 'Citizen Cabinet' in every district so lawmakers really know voters' views.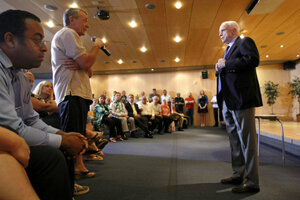 Ralph Freso/AP/File
You hear it all the time: The real source of gridlock in Washington is the American people: Deep divisions between Democrats and Republicans simply reflect the political split in the public.
But the public is not nearly as polarized as it is made out to be and much less so than Congress – and herein lies a way out of today's hyper-partisanship in Washington.
I've been deeply involved with public-opinion research – polling and focus groups – for more than 20 years. Relatively small numbers of Americans place themselves at the ends of the political spectrum. And when they are presented arguments for and against various policy options, in many cases most people find merit in both sides. They tend toward solutions that integrate competing values rather than choosing one side and then fighting for it.
Americans also show an ability to deal with tradeoffs and make the hard choices that Congress finds so difficult. The Program for Public Consultation, which is affiliated with the University of Maryland and which I direct, finds that they can go much further than Congress in dealing with the long-term fiscal problems of the deficit and Social Security.
And the choices Americans make are not necessarily in their narrow self-interest, but show a concern for the common good. For example, when asked to propose tax rates for different income brackets as part of an effort to balance the budget, respondents did not favor their own income bracket. To help save Social Security, younger Americans who would be affected by a proposed increase in the retirement age were just as willing to raise it as older people whose retirement would not be affected by it.
The Founders believed that the "sense of the people," as Alexander Hamilton put it, would naturally align with the common good and that when elected leaders got at loggerheads, the people should, as Thomas Jefferson said, play the role of "arbiter."
---