Floyd Landis: three reasons he should rethink his stance
(Read article summary)
Cyclist Floyd Landis says he doesn't feel guilty for doping. Really?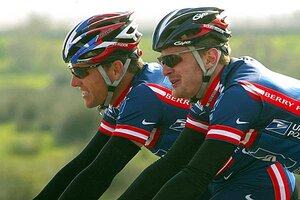 Miguel Riopa/AP/File
Floyd Landis. A-Rod. Mark McGwire. Marion Jones.
It's getting hard to keep track of all the high-profile athletes who, after vehement denials, finally admitted to taking performance-enhancing drugs.
In the case of Mr. Landis, a disgraced "winner" of the 2006 Tour de France, his mea culpa this week had more revenge than regret.
While pointing fingers of blame at several other cyclists, including 7-time champion Lance Armstrong, he seemingly excused himself, saying: "I don't feel guilty at all about having doped. I did what I did because that's what we [cyclists] did and it was a choice I had to make after 10 years or 12 years of hard work to get there, and that was a decision I had to make to make the next step. My choices were, do it and see if I can win, or don't do it and I tell people I just don't want to do that, and I decided to do it."
Not guilty at all? Let's unpack that.
In his defense, Landis wasn't a "cheater" in the same way that someone who cheats on a test or a spouse is. He worked very, very hard to become a top cyclist. Anyone who saw his amazing, come-from-behind hill climb in 2006 can attest to his vigor. All of those illicit substances he took gave him perhaps a 1 or 2 percent performance boost – enough to go from being a world-class cyclist to a world-best cyclist.
---