Floyd Landis admits doping to clear his conscience, implicates Lance Armstrong
(Read article summary)
American cyclist Floyd Landis comes clean about use of banned drugs to clear his conscience. Landis lost his 2006 Tour de France title on doping charges and spent $2 million in vain to clear his name. He says other cyclists doped too, including Lance Armstrong.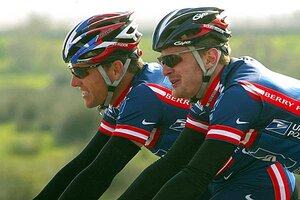 Miguel Riopa/AP/File
US cyclist Floyd Landis has reportedly admitted using performance-enhancing drugs after spending four years and more than $2 million to clear his name. He won the 2006 Tour de France, only to have the title revoked on doping charges.
He said that while he didn't feel guilty about taking drugs since 2002, which he saw as requisite in a tainted profession, he went public now to seek relief from years of deceit. Not even his mother knew until now.
"I want to clear my conscience," Landis told ESPN.com last night in his first interview on the subject. "I don't want to be part of the problem any more.
But Landis's missives were more than a personal confession, such as those many other dopers have made in recent years. In numerous recent e-mails to cycling officials and sponsors, the existence of which were revealed by the Wall Street Journal, Landis laid out not only his own systematic doping but implicated numerous others in the sport, including Lance Armstrong and the current leader of the Tour of California, Dave Zabriskie. He also implicated Armstrong's longtime coach, Johan Bruyneel.
---