So long, Jack Bauer
(Read article summary)
The hero of TV's '24' helped clarify the national conversation about post-9/11 security.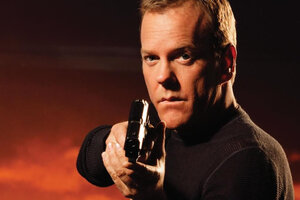 Newscom
The first time I watched "24," I nearly pulled a Jack Bauer. (No, I didn't stab someone's knee with a pen, but I did lose a lot of sleep.)
It was winter 2002, and I was supposed to be studying for an important graduate school exam. Instead, a friend convinced me to watch "just one" episode. That was at 9pm. By 1am, I ran over to Blockbuster and bought the rest of Season 1. I couldn't. Stop. Watching.
By Season 3, my addiction had spread to my social circle: Every week, I invited friends over to watch the "Bauer Power Hour." After the show ended, we stayed up late into the night talking about geopolitics, cybersleuthing, and most important, the limits of a law-and-order democracy to fight back against terrorists.
Those discussions – not Jack's extraordinary and sometimes gruesome methods – are what I'll remember most about the show, which ended last night. Long after his one-liners are forgotten, Jack Bauer will remain a Rorschach test for democratic defense against terrorism in the post-9/11 age.
Superficially, "24" drove a wedge into American politics, between those who support torture against terrorist suspects, and those who don't. But, at a deeper level, the show brought us together by forcing us to confront determined enemies we'd rather forget.
To its credit, the show didn't just cast Islamic radicals as the enemy. Mexican drug lords, British agents, oil tycoons, Balkan warmongers, German arms dealers, Chinese spies, and others went head-to-head against Bauer. In Season 2, radical Islam was shown as so scary that it brainwashed a young American woman into setting off a nuclear bomb in her home city. In Season 7, an imam is shown providing spiritual comfort to Bauer. [Editor's note: The original article wrongly implied that almost every season of 24 featured Islamic radicals.]
---