Readers respond: How well did the media cover the Zimmerman trial?
(Read article summary)
Public reaction remains strong to the acquittal of George Zimmerman in the fatal shooting of Trayvon Martin. In a recent Monitor op-ed, Doug Spero decried what he saw as biased coverage of the case. Monitor readers on Facebook had strong views on the topic, too.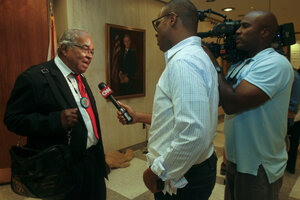 Phil Sears/AP
Even though George Zimmerman was acquitted in the death of Trayvon Martin more than a week ago, public reaction to this highly charged case remains strong. Race and other issues continue as a hot topic on social media.
Doug Spero, a mass communication professor at Meredith College in Raleigh, N.C., wrote in a recent op-ed for the Monitor that he "couldn't believe the lack of balance in [TV news] coverage" of the Zimmerman trial.
We asked Monitor readers on Facebook how the media's coverage of the trial affected their perception of the case. One user summed up many of their sentiments well.
Jo-Dee Collins: "It didn't [affect my perception of the case]. It only affected my perception of the media."
Several readers spoke of what they saw as TV networks' push to increase ratings and profits.
Tim Irvin: "TV news media want ratings, because ratings mean profits. The best way they can do that is to sensationalize stories in a way that divides and conquers the masses, in a way that pits one half of ordinary people against the other. The elites – including media elites, corporate elites, political elites, and economic elites – can continue to stick it to the middle class as long as they can successfully get us to fight each other along the lines of race, gender, religion, and political party. They want us to hate each other – it keeps people fired up about current events, keeps them 'rooting on their side' and brings more money to those who already have lots of it."
---