WTO chief Pascal Lamy: World must change the way it measures trade flows
It is economic nonsense to continue to calculate bilateral trade balances – like those between the US and China – the way we do today. What we need to monitor is the effective added value in each country, not the overall value of goods and services imported and exported.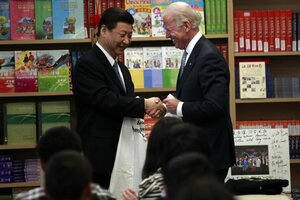 Jay L. Clendenin/Los Angeles Times/AP Photo
Editor's note: This is the first of two articles based on Pascal Lamy's recent talk to the Paris-based Notre Europe think tank, of which Mr. Lamy is the honorary president. Tomorrow: Which policies must Europe follow to prosper in a new global economic landscape?
The global economy has undergone two major changes in the past 20 years. Those changes are going to continue and, in all likelihood, speed up over the coming decade.
The first change involves a radical upheaval linked to the growing power of the emerging countries with very large populations, or "economic masses." There is no other instance in the entire history of mankind of such massive economic development, which some describe as the "big swing," concentrated in so short a space of time.
China's output today accounts for over 8 percent of the world's economy (in current dollars) compared with less than 2 percent only 30 years ago. This increase is already having considerable economic, political, and media repercussions, but 20 years from now China is likely going to be worth 20 percent of the global economy.
The place that China occupies in this picture is of necessity unique because it is the largest and most important of the rapidly developing economic masses. India accounts for 3 percent of the global economy today and should account for only 5 percent 20 years from now. Africa accounts for 2 percent of the global economy today, while Latin America accounts for 4 percent to 5 percent. In 20 years' time, Africa should account for 3 percent of the global economy and Latin America's share should remain stable. Thus, while these other economic masses are also shifting, they are not doing so to as great an extent as China will.
---