Why boycotting Iran's presidential election is an act of integrity
In reality, Ayatollah Ali Khamenei will decide Iran's presidential election. That is why actively boycotting this election would be an act to regain dignity as well as be a mass, nonviolent uprising that could end a regime that prolongs its existence by moving Iran from crisis to crisis.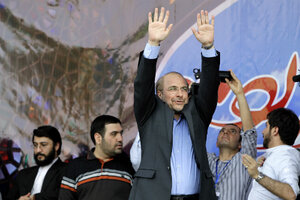 Ebrahim Noroozi/AP
For today's presidential "election" in Iran, the country's supreme leader has decided to do away with the niceties of a two-horse race between reformist and conservative candidates. As in any dictatorship, there is now only one horse running. Although at first glance it might look like there are six remaining candidates with six different agendas, a closer look reveals that there is one with six faces.
The common denominator between them is their complete obedience to the supreme leader. In fact, the "election" is making it possible for Ayatollah Ali Khamenei to do away with the republican aspect of the regime and exercise the absolute power that is ascribed to him in the constitution that was engineered by Akbar Hashemi Rafsanjani after Ayatollah Khomeini's death in 1989.
This is not to say that each candidate is precisely like the other. Each opens up a different path for Iran's foreign policy. In fact, this election is Khamenei's response to President Obama.
The outcome can take three forms. If Khamenei wants to tell Mr. Obama that he is going to continue his current nuclear policy of confrontation in negotiation with the "P5+1" group, he may well appoint Iran's current negotiator, Saeed Jalili. However, if Khamenei decides to tell Obama that he will determine his nuclear policy based on Obama's policy on the issue, then Mohammad Baqer Qalibaf, the current mayor of Tehran, will become his president. Finally, if Khamenei wants to tell Obama that he is ready to compromise on the nuclear issue, then Ali Akbar Velayati, the former foreign minister, or Hassan Rowhani will become the president.
---