Obama, here's how to help the poor: Educate both parents and their children
In his State of the Union address, President Obama touted ways to improve education and the economy. One solution – with a proven record of success – didn't make it into the speech: a two-generation strategy to educate families and bring them out of poverty.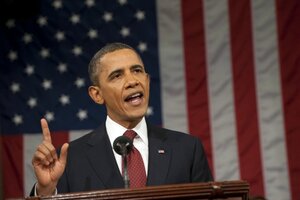 AP Photo/Saul Loeb, Poo
It's no surprise that President Obama spent much of his State of the Union address Tuesday night tackling two of the most critical problems facing our nation: the weak economy and dwindling access to education. He devoted plenty of rhetorical energy to convincing the American people that he has big ideas for improving these thoroughly intertwined challenges.
But one proven solution that didn't make it into his speech is far under the radar of most politicians, policy wonks, and pundits: a two-generation strategy to educate families and bring them out of poverty. Simply put, this means programs that educate poor Americans by providing services that empower both children and adults.
For too long the United States has bifurcated social services, as if individuals aren't rooted in families, just because they happen not to live like the Huxtables. Many government and privately funded programs provide subsidized daycare, but do little to help mothers find and keep jobs. Some provide job training, without addressing the mammoth challenge parents face of finding reliable and affordable daycare.
In not serving the whole family unit – whatever it looks like – America not only fails the poor, but perpetuates cycles of poverty that strain the wellbeing of our entire economy.
America should be focused on equipping its most vulnerable citizens with the tools necessary for economic mobility. And those vulnerable citizens are invariably children and single mothers. Though the strained economy has been hard on Americans across the board, a whopping 40.7 percent of single parent households are struggling below the poverty line – the majority being single-mother households.
---