Son of migrant workers, now solar CEO: Don't put tariffs on Chinese solar panels
The US government is considering special tariffs on solar panels that are imported from China. These tariffs could result in higher costs for solar energy components, endangering the vibrant US solar industry and derailing America's progress toward job creation and energy security.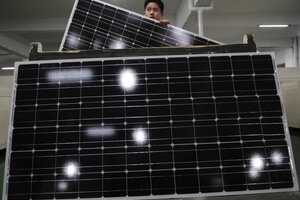 Reuters
Growing up in a family of migrant farm workers, I learned early on that, in order to succeed, you have to work harder and smarter than others, and you have to stand on your own two feet. Now I'm the CEO of GT Advanced Technologies, a leading global provider of advanced production equipment and technology for manufacturers in the solar energy and LED industries.
Heading up a company that competes successfully in the global economy, I'm guided by the lessons I learned long ago: Getting ahead means you have to better than your competition. You can't succeed in business over the long haul unless you can do so without government handouts and other artificial advantages.
That's why I'm so concerned that the US government is considering special tariffs on solar panels that are imported from China.
With more than 500 employees in the United States and 700 employees worldwide, we have annual revenues of almost $1 billion, pay more than $75 million in federal taxes, don't get any federal government subsidies, and sell 90 percent of our products overseas. Faced with stiff competition in the global market in which we all compete, SolarWorld – a German-owned company with a facility in Oregon – has petitioned the US Commerce Department to impose special charges that, in some cases, could be up to 250 percent on some imported solar panels.
[Editor's Note: The original version of this piece misstated the number of GT Advanced Technologies employees in the US.]
The major trade issues between China and the US affect every export-oriented industry, not just solar panels. This issue should be addressed by bilateral negotiations between the two countries. The answer is not imposing a special tariff – really a tax – on solar panels. That "tax" would be built into the costs of solar energy systems, making solar power much more expensive for electric utilities and commercial and residential consumers.
---