How GOP can win more women voters
Let Democrats waste their energies trying to woo women on 'reproductive rights.' They will shore up their base and alienate the middle. Republicans can win more women voters and bridge the gender gap by focusing on what is most important to women in 2012: jobs and the economy.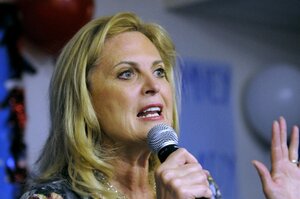 David Tulis/AP
To hear all the buzz, Republicans are at war with women. Consider Mary Kate Cary, former speechwriter for Bush the elder, who recently claimed "The GOP is hemorrhaging the women's vote" and called on party leaders to turn things around quickly. As in now.
Americans hear lots of talk about the gender gap, the difference in how men and women vote. Democratic leaders and activists focus their attention on so-called women's issues to shore up the female vote, while Republicans wring their hands and wonder what they can do to win back the women.
Facts and historical patterns rarely get in the way of political posturing, but a reality check is certainly in order. Here are some things Republicans should keep in mind as they look to bridge the gender gap and chart a winning path to November.
First, interpret polls correctly.
Polling data are useful; they provide a good snapshot of what people are thinking at a given moment. But they are just that – an instant picture of the political landscape. The candidate poised to save the party one week is sent to the showers the next. Just ask Howard Dean or Michele Bachmann how quickly the tides of favorability can turn.
Many discussions of the gender gap misinterpret its meaning. By definition, a gender gap in voting is the margin of difference between the male and female vote for a candidate. To measure gendered support for President Obama, therefore, we calculate the difference in how many men and women say they will vote for him, not the difference between women themselves as they choose between the candidates.
---