This Earth Day, let's focus on people
Environmentalists go on about the loss of endangered species and degraded coral reefs. But we barely mention people – nature's biggest beneficiaries. This Earth Day, let's put human well-being at the center of things, and make explicit the value of nature to our everyday lives.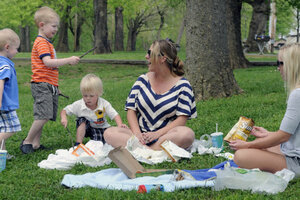 The Mountain Press, Curt Habraken, AP Photo
After more than four decades of celebrating Earth Day, you'd think something would have stuck. But young Americans are less interested than ever in the environment and taking action to save nature, according to a new comprehensive study of high school seniors and college freshmen.
And it's not for lack of trying by environmentalists. We've deployed every hot new marketing tactic around to reach the Millennial Generation – eco-fashion shows, "Rock the Green" concerts, Earth Hour, and green labeling on everything from drinks to jeans. What's left to talk about?
People, for starters.
Environmentalists don't talk about people much. We go on about the loss of endangered species, degraded coral reefs, dwindling numbers of sharks, and logged-out ancient forests. But we barely mention people – the biggest beneficiaries of nature. And that's why most people tune us out.
Earth Day marks its 43rd year on April 22. Forty-three years is nothing. The Earth has survived for 4.5 billion years. It's handled countless asteroids, oxidizing bacteria, and climate-changing volcanoes. Trust me, the Earth is going to be fine.
The real question is: are we?
Our species has been around for about 100,000 years. To put that number in perspective, consider this: If the Earth were as old as the average American, people have been around for about as long as a single night.
Yet the modern environmental movement ignores human well-being. Environmentalists don't focus on the billions of people whose standard of living is unimaginably low and for whom the sustainable use of nature could provide a lasting way out of poverty. We don't talk much about how nature is an integral part of all of our lives, including that of business and youth.
Instead, our rhetoric is relentlessly about "less." Limit your footprint. Reduce your consumption. Why are we surprised that, for the majority of American youth, protecting nature seems a joyless exercise in deprivation?
That's no way to create social change.
---